Les McGehee's Leadership Interview Series profiles iconic cultural leaders in their natural habitats, capturing the essence of the qualities that make a great leader, such as passion, collaboration, humor, and creativity.
Men commune.
Along the railroad stops of long ago, you'd often find a café nestled near the tracks. A tiny town, a dirt road, a simple kitchen—all elements that contributed to a crucible of connection, a crossroads at mealtime. Men who would have otherwise never sat down together would do so over the same fare—whatever the café was serving that day. And even though it was a gathering of men with disparate experiences and lives, a shared meal offered just enough cover to allow any core values that men talk to men about to move around without feeling stared at.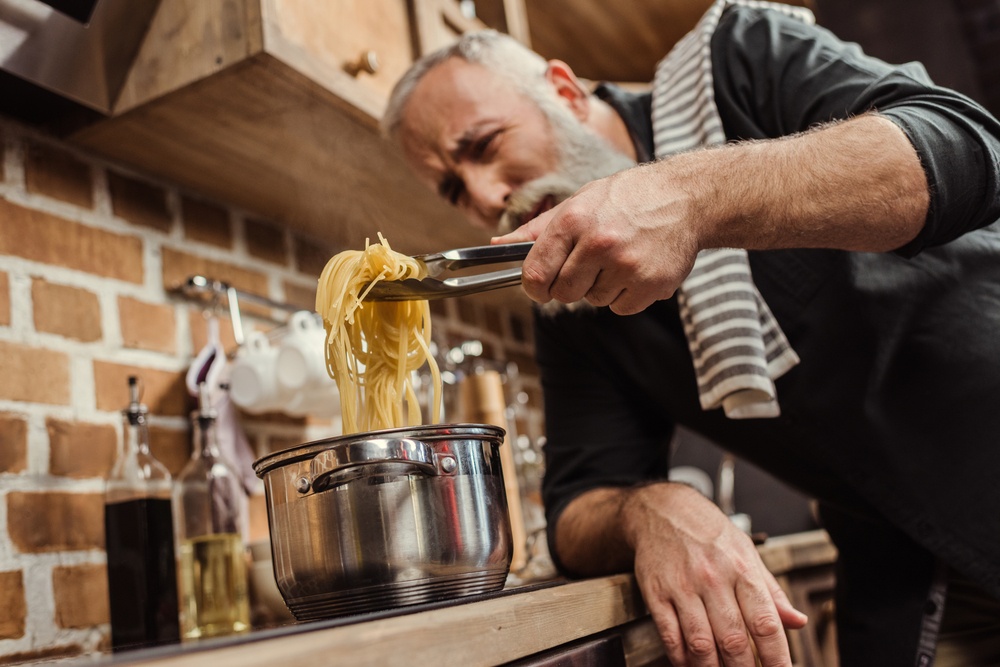 Manly music and comestibles.
Part chef laboratory, part guy's night out and 100-percent fun dinner party, it's the Austin Men's Cooking Club.
Flash forward to today—we're just west of the crossroads of train tracks and nearby Manor Road, and as if a sauté pan had projected the Batman beacon onto the cloud bottoms over Austin, men of all stripes have convened at the kitchen of the Sustainable Food Center for a working party. The R&B is a little too loud, the beer and wine are being reviewed (over beer and wine) and free hands are grabbing at pots, pans, and cooking plans. Part chef laboratory, part guy's night out, and 100-percent fun dinner party, it's the Austin Men's Cooking Club.
Man your stations.
Ringmaster and local real estate professional Tom Sunstrom loves these nights. "Philip created the menu for tonight. I chose the wines," he says. "And Tom plays the music too loud," someone in the group interjects. "And he isn't cooking anything yet! He also brought the knife-sharpening guy out to sharpen all our personal knives!" The men move like a flock of manly culinary birds, and there's so much natural cooperation that it's difficult, at first, to tell which members are the veterans. "Blake over there…he's a first-timer," Sunstrom says. Blake, the account manager for an online company, has been here all of five minutes and is already responsible for an entire menu item. He smiles while happily cutting tomatoes with calm precision. "I guess I'm doing this right," he says. "They sure look great." Meanwhile, veteran member Jacob begins working the skillets, and appears to be having a little too much fun while occasionally spouting off cooking facts to no one in particular. "It's important to keep this right at a hundred fifty-five degrees!"
Real men and realtor men who love to cook.
It was about 12 years ago when all of this began. Sunstrom already loved to cook, and because he was a dad, he and his wife logged plenty of time in the kitchen. Yet, he wanted something more. "My thing was to shop at the markets on Saturday and cook all day Sunday with music on," he says. "I'd have so much fun doing that—experimenting with dishes and local ingredients—but I struggled with the fact that I could spend two days making the perfect coq au vin and, two bites in, the kids were asking for macaroni and cheese with hot dogs and peas."
Men convene.
Then he read an article in the Austin American-Statesman about a German man in the Hill Country who'd organized a men's cooking club. Sunstrom learned that manly cooking clubs are quite common in Germany—many small villages have them, and they even have competitions. He was so intrigued, he created a flyer and put it up at some local markets. "I'm looking for a few good men. Austin Men's Cooking Club. Email me if interested," it read. "I had thirty-two replies within forty-eight hours," he says. That's when I knew I was on to something."
Manly pro formas and systems.
The interested men agreed to meet, cook, and have guy fun once a month—taking turns creating menus. They'd each chip in about $30 for the night's food and drink, and Sunstrom would rent a commercial kitchen. "In the old days, I'd bring everything," he says. "I'd load my truck with pans, plates and utensils, all the spices…everything, basically. We really scored when we started working with the Sustainable Food Center. It's such a great organization and a professional kitchen."
Evolution, Emeril, and saltimbocca.
Those small, early gatherings slowly evolved into an organized group of about 30 men (about half of which RSVP on any given cooking night), and Sunstrom says it's been fascinating—even beneficial—to witness the connections made over the years. "I remember getting great advice from a financial advisor I was cooking with about sending my kids to college," he says, the words muffled by the big bite of mortadella pâté he's chewing. (All agree that Dwayne, who owns a limo company, rocked the pâté tonight.)
Sunstrom tours the cooking stations and describes the menu. "We're having chicken saltimbocca, tomato and goat cheese salad, some spaghetti on the side with lemon, garlic, and breadcrumbs, some bruschetta brushed with truffle oil…and Mark is making dessert macaroons with dark chocolate and a peach gelato with Fredericksburg peaches." Already available are savory roasted nuts and Dwayne's mortadella pâté with crostini.
There are some mad skills in the room, but not everyone is on the same level. A couple of the members are culinary school graduates, including real estate agent Mark who used to cook for Emeril in Las Vegas. "Remember the night Chris burned his eyebrows off?" he asks, referring to his nearby fellow member. "He had to go home to his wife who's an ob-gyn and have her inspect his burnt brows!" Chris smiles but does not respond. "AND HE'S A PHYSICIST!" Mark finishes. Everyone laughs while one member casually passes by another and salts his dish without asking—a move that, in many environments, could cause a hand to get severed. Yet, this group moves and functions as one cohesive body.
Men get serious in the kitchen.
Members use the equipment with aplomb and clean as they go; no one gets cut or burned and they're on schedule. Jacob pulls the spaghetti and reminds aloud: "One gallon salted to one pound of spaghetti!" One person juices the lemons while another prepares the crushed breadcrumbs and basil for garnish.
Men tell men truth about manlife.
Meanwhile, a long table is set with flowers, wine, and dishes. Then comes the glorious dinner. "My wife didn't want me to come tonight. I told her we never cancel once we've committed!" says one member. "I think that the amazing leftovers she'll have in her lunch at work tomorrow will soften her." "My wife was glad I left!" says another.
Men learn.
These guys like to learn, too. After dinner, knife-sharpening expert John Cruthirds gives a speech. The ensuing conversation is a bizarre nerdfest of knife and chef knowledge mixed with hyperbolic exchanges. "You gotta make sure you don't hump down on the choil!" Cruthirds says with devoted intensity. "Find yourself a hone within reason!" "Yeah…that hone is best," concurs Jacob. "Forged knives don't bend like pressed steel knives," adds Cruthirds. Then the table breaks into nods, mumbled agreements, and a discussion about knife alloys and cutting board preferences (teak is the favorite with its natural antibacterial qualities, followed by bamboo and plastic).
Buerre-blanc and business growth.
Privately I pull Sunstrom aside and asked him if these gatherings were good for business. "Sure!" he says readily. "That's not my big motivation for doing this, but of course these relationships are good for business and I'm responsible for helping. [pointing his finger at various men]. I helped his brother buy a home, helped his neighbor sell a home [pointing again]. That guy making the buerre-blanc is actually a great realtor with the locally famous Wendy Papasan Team too, so of course we support each other professionally."
Manly gratitude.
The evening comes to a close and the club members finish clearing the table. "About six years ago, I realized what I love most about this and why I've made it a part of my life," says Sunstrom. "We have tall guys and short guys, we have straight guys and gay guys, we have married, divorced and single guys, we have retired guys and college guys, we have business professionals and stay-at-home dads. Not a month goes by where I don't just take a step back and watch. Many of these guys would NEVER cross paths in this lifetime. When you witness a married, empty-nester, retired commercial pilot in a discussion with a young, gay, college student who's in a fight with his boyfriend relating to each other while cooking homemade tres leches…you can't help but think you are on to something pretty damned cool."
A version of this article was originally published in Edible Austin magazine.
To find out more about how you can nurture the skills that lead to business growth and a satisfied, delicious life, reach out to us for a free business coaching consultation.